BookUpTX Students Attend Chitra Banerjee...
On April 15, our BookUpTexas students went to Houston's Brazos Bookstore to see Chitra Banerjee Divakaruni read from and discuss her work. Divakaruni is an award-winning author, poet, and teacher, and she was a National Book Awards Fiction Judge in 2000. See more photos from the reading on our website. Photo by Francine Parker
And the 2013 Innovations in Reading Prize Winners...
We're thrilled to announce the winners of this year's Innovations in Reading Prizes: City National Bank for Reading Is the Way Up (Los Angeles, CA) Little Free Library (Hudson, WI) The Uni Project (New York, NY) The Uprise Books Project (Vancouver, WA) Worldreader (Seattle, WA) To learn more about the Innovations in Reading Prize and each of the winners, click here.
Remembering E.L. Konigsburg (1930-2013)
Children's book author and illustrator E.L. Konigsburg has passed away at age 83. Konigsburg was nominated for the National Book Award for Children's Books twice, in 1974 for A Proud Taste for Scarlet and Miniver, and in 1980 for Throwing Shadows. Click here to read her obituary in The New York Times. Click here to read Judy Blume's acceptance speech for the 2004 Medal for...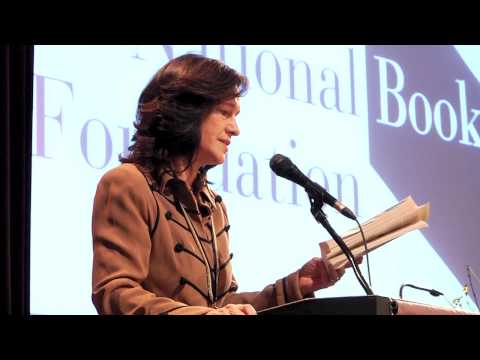 Watch
Watch 2012 NBA Poetry Winner David Ferry on PBS NewsHour, and visit our website for more information about his NBA-winning collection, Bewilderment.
Watch
"Stories are democracy. They're the purest form of an engagement." -Colum McCann Today is the birthday of Colum McCann, 2009 National Book Award Fiction Winner for Let the Great World Spin. Click above to watch a video of his acceptance speech, and visit our website to learn more about his work.
Eat, Drink & Be Literary 2013 Starts Tonight!
Our dinner-and-a-reading series at the Brooklyn Academy of Music (BAM) kicks off tonight with author Martin Amis! For more info, please visit our website.
Remembering Evan S. Connell, Jr. (1924-2013)
Kansas City-born author Evan S. Connell, Jr. has passed away at age 88. Connell was a National Book Award Finalist twice, in 1960 for Mrs. Bridge (Fiction) and in 1974 for Points for a Compass Rose (Poetry). Check out his page in our online exhibition The Contenders. Click here to read O'Connell's obituary in The Kansas City Star.
Watch
"The only thing I've ever wanted to do with my life is have a good time writing stories. This award tells me I'm still at it." -Elmore Leonard accepting the Medal for Distinguished Contribution to American Letters at the 2012 National Book Awards (November 14, 2012)
Remembering Jack Gilbert (1925-2012)
Jack Gilbert, National Book Award Poetry Finalist in 1983 for Monolithos, has passed away at age 87. Click here to read his obituary in the Los Angeles Times. Photo © Robert Tobey
Remembering Ellen Douglas (1921-2012)
Mississippi novelist Ellen Douglas has passed away at age 91. Douglas, whose real name was Josephine Ayres Haxton, was a National Book Award Fiction Finalist in 1974 for Apostles of Light. She decided to write under a pseudonym because her first novel, A Family's Affairs, was based on the lives of her two aunts, whom she once described in an essay as "very private ladies."...
Foundation Closed, Twitter Chat Postponed
The Foundation office is closed due to an evacuation order for our section of Lower Manhattan. We hope to be back up and running soon. If you need to reach the staff, please use email. Staff addresses can be found here. Given the circumstances, we've decided to postpone today's Twitter chat with Claire Vaye Watkins to a later date, to be announced. To all who are being affected by...
John Corey Whaley to Host 2012 National Book Award...
2011 5 Under 35 honoree John Corey Whaley will host the 2012 National Book Award Finalists Reading on Tuesday, November 13 at The New School in New York City. The event is open to the public; tickets are $10 each and can be purchased through The New School's website. This event always sells out quickly, so get your tickets early! Photo by Ashley Bankston
Announcing the 2012 National Book Award Finalists!
For information about this year's twenty Finalists, visit our website.
Happy Birthday (and Congrats), Tim O'Brien!
Photo by Benjamin D. Weller Tim O'Brien won the National Book Award for Fiction in 1979 for Going After Cacciato. Here are a few excerpts from appreciations of the book on our National Book Awards Fiction blog: "The book, for a budding writer, blew open a door in my mind that I didn't even know was there." -Marie Myung-Ok Lee "I admire and often teach If I Die in a...
Remembering Louis Simpson (1923-2012)
Four-time National Book Award Poetry Finalist Louis Simpson has passed away at age 89. Simpson was a Finalist in 1964 for At The End of the Open Road, in 1966 for Selected Poems, in 1973 for Adventures of the Letter I, and in 2003 for The Owner of the House: New Collected Poems 1940-2001.